If you're a yoga master and trained to fold yourself into a compact knot of flailing limbs, then economy class flying is for you. For the rest of us regular people who don't want to shave our heads and live within a mountainside Shaolin temple, we need finer options. If you have the resources, first class is the way to go—otherwise known as the portal to spoiled conveyance across the sky. Usher yourself behind the wizard's curtain and enjoy a glass of bubbly champagne, but remember, not all premium cabins are created equal. Sweep down a burgundy carpet with us today, and learn about the best first-class airline seats:
Cathay Pacific Airlines
Plush leather first-class seats flatten into super-comfortable beds and airborne magic pushes passengers off to dreamland. The newly configured bed is gifted with a mattress, cotton pillows, and a snugly stuffed bed-buddy. Okay, the last part of that statement isn't true, but shouldn't everyone have a stuffed bunny when flying? The rest of the amenities include privacy panels, a wide interior space where every hard edge is covered in luxurious leather, and handy storage compartments for storing those James Bond gadgets you love.
Singapore Airlines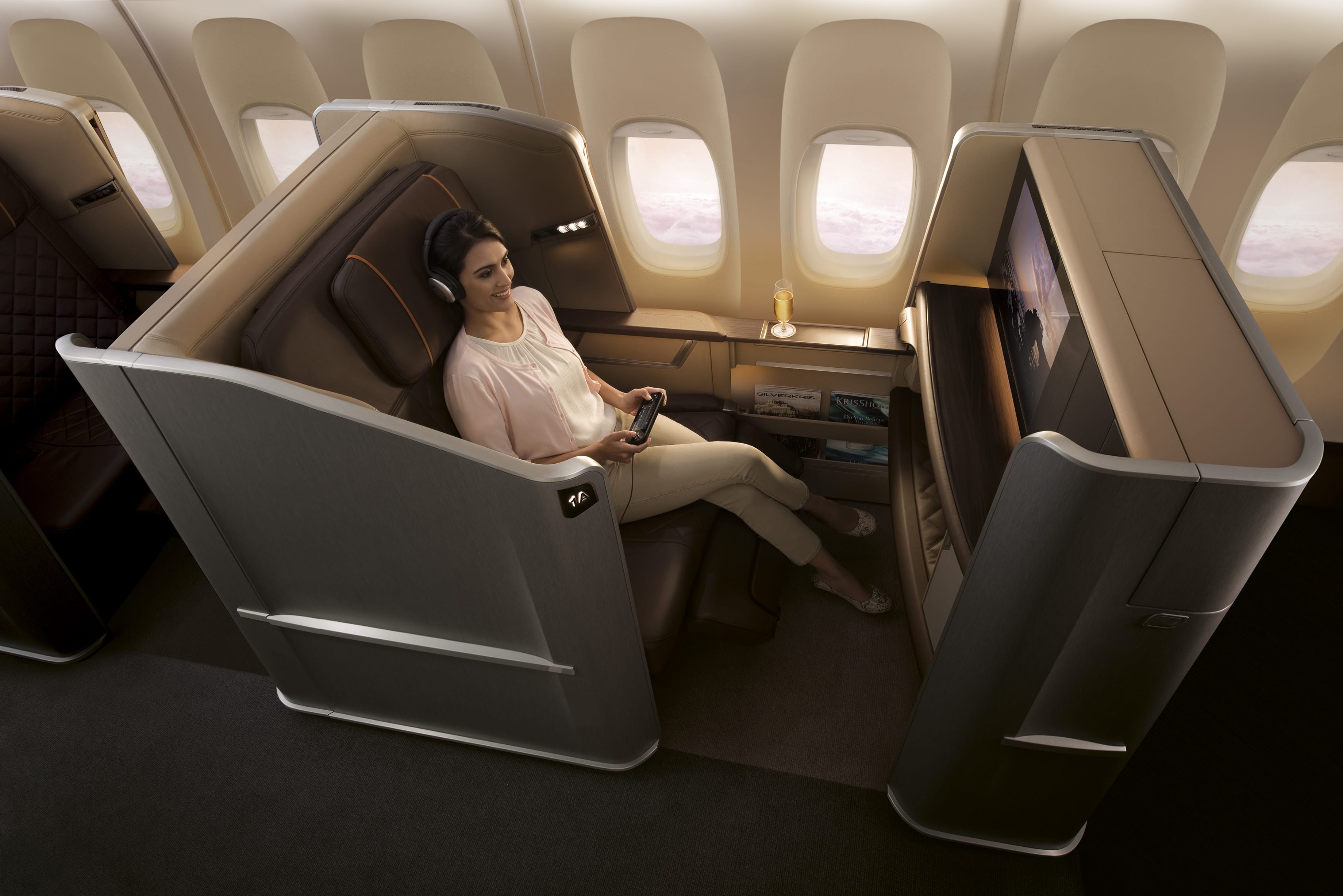 More reminiscent of 1920s ocean liner cabins than claustrophobic aircraft seating, a Singapore Airlines suite is a 5-star hotel room in the air. Featuring cabins outfitted by Italy's finest interior designers, these first-class suites deliver hand-stitched accents and signature touches that can't be found elsewhere. Those heady features include sliding doors, blinds, polished wood panels, and standalone beds that come with a turn-down service. Yep, we said turn-down service—it's that classy. Pamper yourself with a Givenchy or Ferragamo product, or take a shower before nodding off for the entirety of the flight.
Emirates Airline
We're off to luxury transformer land again. Whistle a favorite section from Beethoven's Große Fuge and master the transformation of the sumptuous Emirates first-class seat into a flat-bed configuration while sipping from a glass of Dom Perignon. Pajamas are available, although your typical rock star may not want to be spotted while wearing his fuzzy jammies. Services and amenities vary depending on destination and long-haul flight, but most aircrafts have integrated seating models that feature 19-inch flat-screen televisions, private minibars, and an assortment of vanity tables. Slide your privacy door closed and drift away to peaceful slumber.
British Airways
The pomp and circumstance of English hospitality is a well-known attraction, one the world traveler seeks out with regularity. Sip some Earl Grey tea and settle into your spacious suite while daydreaming about making faces at a Royal Guard stationed outside Buckingham Palace. After you've finished indulging in food prepared by world-class chefs, unwind and convert your overstuffed seat into a 6 foot 6 inch flat bed. Don't bother taking the blankie you hide from family and friends because British Airways includes a cozy duvet and mattress capable of comforting the most restless sleeper.
They're called cubicles or pods, cabins or suites, but every one of these ritzy first-class seats delivers in a bounteous manner. The best first class seats may come at a premium price, but they deliver on their promise, conveying a sense of personalized care that's backed by impeccable service.