If you've managed to pry your children away from their electronic devices, congratulations: you've taken the first step toward spending some quality "family time" together. Despite the shrill shrieks and angsty ailments being verbally thrown at you by your rambunctious brood, stand your ground. You are going to have fun on this vacation, dangit, and make some memories to last a lifetime.
Think long and hard about where you should devote your precious days off, and consider these top five family vacation destinations in the United States before making your decision:
Yellowstone National Park, Wyoming
You can tell your kids that you're going to visit Yogi and Boo-Boo, but they actually live at Jellystone Park. Yellowstone National Park is situated on over 3,500 miles of Wyoming land and is open all year long. Although you should take weather into account if you're planning on camping, there's tons to do no matter the season. Hike, bike, and fish during the warmer months, and ski, snowshoe, or sled during the winter. Perhaps most well-known for its geyser, Old Faithful, the park is home to amazing forests and wildlife as well. Who knows, you might see an actual grizzly bear while you're there. Although it's not confirmed whether or not they actually love picnic baskets.
Williamsburg, Virginia
Trick your kids into learning on vacation and take a trip to Williamsburg. Less crowded than bustling Washington D.C., this city makes our list due to its numerous historic attractions. Tracing its history back to the 17th century, your family will be stoked to see horse-drawn carriages, battlefield reenactments, and dudes wearing goofy powdered wigs wherever you go. Even though your children will think they're "playing" as they pick apples and learn to churn butter, you know they're actually getting a valuable lesson about our country's history and doing chores. Win-win.
Santa Cruz, California
The beach, boardwalk, and New Age hippie vibe of Santa Cruz will have you wishing you lived in Northern California. Although the city experiences a good amount of rainfall during the winter months, there's nothing better than a day spent in Santa Cruz. Explore the thrift shops and vintage diners in the downtown area, and take surfing lessons with your whole family. If the waves of the Pacific are legendary enough for the Beach Boys to sing about them à la "Surfin' USA," they're good enough for your kids to doggy paddle in. Lather up your little ones with sunscreen and spend some time getting thrilled at the Santa Cruz Beach Boardwalk, which is home to the oldest rollercoaster in the state. Although the Giant Dipper was built in the 1920s, it's totally safe. Just keep your arms inside the ride, kids.
San Antonio, Texas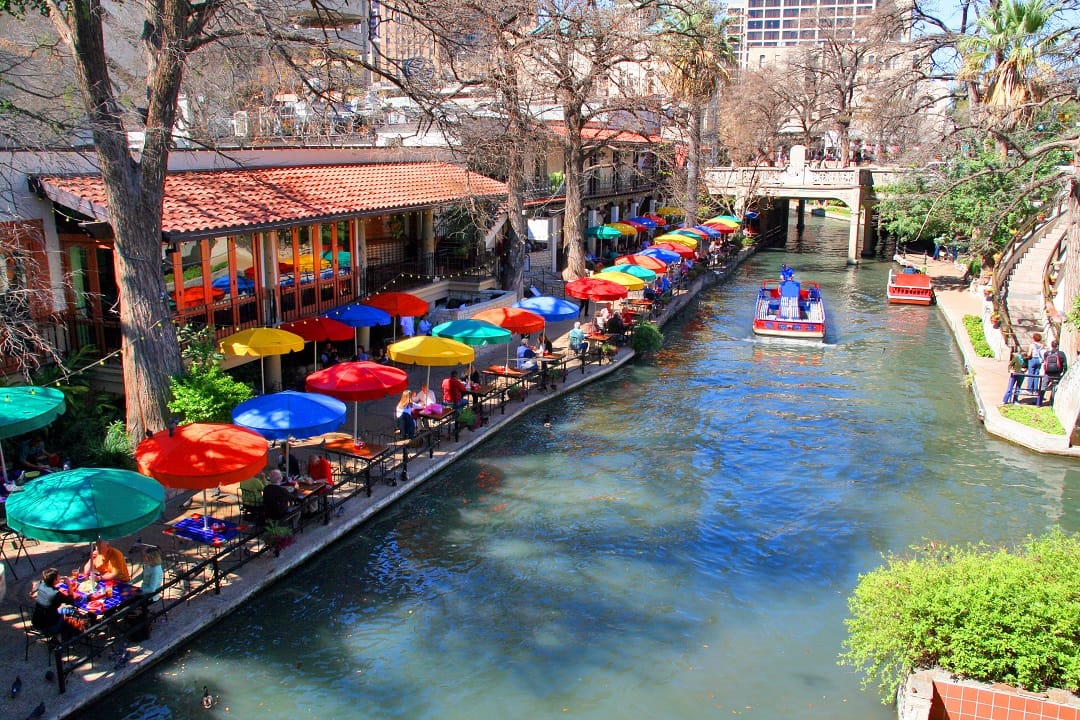 OK, so your kids might complain about the heat, but they'll love the barbecue. You'll love wet-napping their entire bodies after the saucy bloodbath, too. Buy everyone in your family a monogrammed cowboy hat—this way, you'll not only enjoy your vacation, but you'll have embarrassing pictures to show their future spouses. Giddy up and explore the sights of Riverwalk downtown, cave and take them to Six Flags® Fiesta Texas, or hang around at the San Antonio Children's Museum. This Texas destination combines tons of kid-friendly activities with an exciting city scene, and you'll probably be able to get a really good beer at your hotel's bar, too. Yee-haw!
Island of Oahu, Hawaii
Although getting to Hawaii can be a bit pricey if you have a big clan, it's worth the extra effort. Stay on the island of Oahu and take your kids to the historic site of Pearl Harbor to learn about America's entry into World War II. Afterward, lighten the mood with a trip to the Dole Plantation; the plantation offers tours, delicious snacks, and train rides. Let's be real though, you're mostly interested in laying out on Honolulu's white sand beaches and catching up on a little R'n'R. Your kids will love playing in the sand just as much as you do, and hey, you might even see a sea turtle while you're there. Cue the chorus of excited "Finding Nemo" quotes from your kids.
The best family vacations originate from proper planning and good attitudes. As long as your kids are laughing, and not beating each other up, you're going to have a great time.