You've been looping the same 20 songs since you left New York's JFK for Paris, and you're starting to think that you might actually scream if you hear The Boss croon about being born to run one more time. The problem is clear: You need a new set of tunes to make that in-air time feel less like a chore.
Luckily for you, we've been moonlighting as DJs in our off hours, so give Mr. Springsteen a break, and let us take the reins. Here, we've put together five playlist ideas designed to please nearly every type of traveler. Mix 'em, match 'em, or throw your own favorites into the fray. Just try not to sing along at top volume unless you want to earn some major stink eye from everyone around you. It's probably best to not be that guy.
The Road Warrior: Classic Travel Jams
Remember that cross-country road trip you took just after college? Channel that Jack Kerouac nostalgia, and put together a playlist that makes the journey just as awesome as the destination. The aforementioned Springsteen would totally work here, but any road-related genre is fair game.
Try these tracks: Willie Nelson "On the Road Again," Johnny Cash "Wide Open Road," Daft Punk "Around the World," Simon & Garkfunkel "Homeward Bound" 
The Destination Dreamer: Locale-Based Ballads
Can't wait for all of that cultural immersion? Get a head start with a pile of songs written about your destination. You know you'll be singing these things to yourself all vacation anyway, so you might as well listen now.
Try these tracks: PJ Harvey "Let England Shake," They Might Be Giants "Istanbul," The Bangles "Walk Like an Egyptian," Manu Chao "La Rumba de Barcelona"
The Drama Major: Serious Show Tunes
The world is a stage! Take your mind off the potential turbulence and sub-par food by channeling your inner Broadway star. Who knows? Maybe the person next to you will hear the "Evita" soundtrack blaring through your headphones and strike up a convo about Madonna's turn in the movie. On second thought, maybe that's not the most desirable outcome here.
Try these tracks: Cats "Mister Mistoffelees," Grease "Summer Nights," Chicago "All That Jazz," Cabaret "Wilkommen"
The Anxious Wanderer: Meditative Hits
If you need a tranquilizer and some breathing exercises just to put on your seatbelt, it might be time to surround yourself with some epic serenity now. Create a customized soundtrack of soothing tunes, and you'll be in the chill-out zone before the plane even takes off. No, that engine noise is perfectly normal. We promise.
Try these tracks: Mogwai "Take Me Somewhere," Coldplay "Strawberry Swing," Brian Eno "Stars," Santo & Johnny "Sleepwalk"
The Can't-Stop Rocker: Fist-Pumping Anthems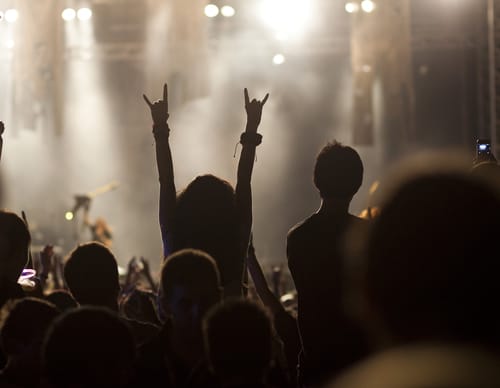 Your idea of a good time is getting in the pit at a punk show, and you can't stand all those Top 40 tunes seeping from seatmate's headphones. Pass the time with a playlist of iconic anthems that feel more Sex Pistols than Shakira. Just don't start a mosh pit in the aisle this time.
Try these tracks: The Stooges "Gimme Danger," The Clash "London Calling," The Misfits "Where Eagles Dare," The Runaways "Cherry Bomb"